In India, the torrential rains come once a year and can cause catastrophic flooding. And these floods are only going to get worse: A 2017 study found that the monsoon in northern and central India has steadily strengthened over the last 15 years, at least partially due to rising land and sea temperatures. At one metal parts factory in Mumbai, located near a body of water that forms during the rainy season, the architect Sameep Padora has designed a clever solution for when the monsoon flows and the area floods.
Though it's not immediately obvious, Padora's design is tailored to the cycle of flooding. Putting the factory's employees and equipment on the building's ground floor would mean halting work when the inevitable floods from the monsoon inundated the space. Instead, Padora created a beautiful depression beneath the cantilevered building's first floor, giving the waters a place to collect and protecting the workers and equipment from the rain."This low-lying part of our site is hence a natural receiver for groundwater levels that rise up during the monsoons," Padora tells
Co.Design
in an email. "We decided to retain this natural seasonal occurrence rather than keep the water out."
The depression, nicknamed the "Concrete Void," can hold 185,000 gallons of water, and, if it continues to overflow, the water will be routed into storm drains. A concrete passageway enables workers to cross the void with ease.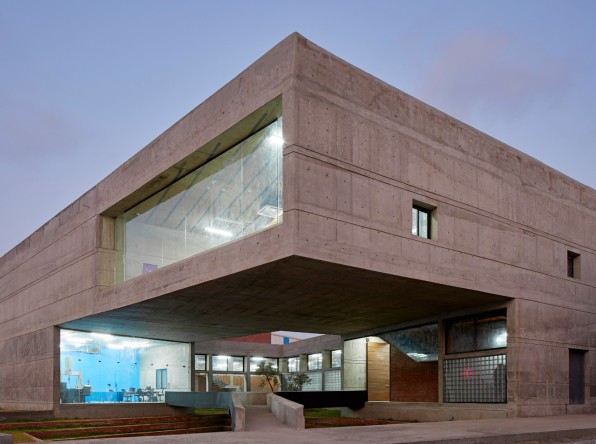 The design is also akin to resilience strategies in the Netherlands, where the Dutch government has deliberately created public squares–or even sports fields–that can act like floodplains when the water begins to overflow, doing double duty as public space and stormwater management. The idea is to work with the water, understanding the way it flows and designing structures to accommodate it.As storms get more intense with the impact of climate change, this kind of resilient architecture will be far more effective than simply building a wall to keep the water out.